Ronn in Egypt, March, 2017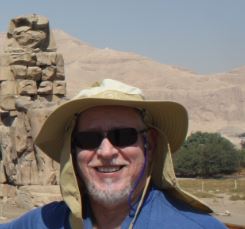 Ronn as a novelist

Ronn Munsterman is the author of the Sgt. Dunn Novels. His lifelong fascination with World War II history led to the writing of the Sgt. Dunn novels.
He loves baseball, and as a native of Kansas City, Missouri, has rooted for the Royals since their beginning in 1969. He and his family jumped for joy when the 2015 Royals won the World Series. Other interests include reading, some more or less selective television watching, movies, listening to music, and playing and coaching chess.
Munsterman is a volunteer chess coach each school year for elementary- through high school-aged students, and also provides private lessons. He authored a book on teaching chess: Chess Handbook for Parents and Coaches, available on Amazon.com.
Munsterman retired from his "day job" in December 2015. In the latter half of his career he worked as an Information Technology professional. His new "day job" fulfills his dream: to be a full-time writer.
He lives in Iowa with his wife, and enjoys spending time with the family.
Munsterman is currently busy at work on the next Sgt. Dunn novel.
Ronn as a Chess Coach and chess writer
Ronn Munsterman is a Level I USCF Certified Coach with eleven years of coaching experience. His coaching philosophy is, first and foremost, that the game should be fun for the players and the coach. Known simply as "Coach," his students learn to play by all the rules of chess, learn sound chess fundamentals, and are challenged to grow stronger every week.
He first joined the United States Chess Federation in 1987. He is a member of the Iowa State Chess Association and a Life Member of the Missouri Chess Association. He organized and ran the Kansas City Corporate Chess Club from 1989 to 1991. From 1990 to 1995, Munsterman held several positions for the Missouri Chess Association, including Board of Directors, President, Editor – Missouri Chess Bulletin, and Membership Coordinator.
In 1994, Munsterman won the Missouri State Reserve Championship with a score of 4.5 out of 5.
Munsterman began coaching when his son, Nathan, was in the first grade. He has coached players in grades 1 – 12. His elementary team from rural Troy, KS., won second place in two consecutive State championships, and one year won first place in six consecutive tournaments, all while competing against much larger schools. His players consistently placed in the top ten in Kansas Scholastic Chess Association tournaments, and won first place eight times. His top four players won the prestigious match-play Kansas City Cup twice, once in elementary, and once in middle school.
Munsterman currently coaches elementary- and high school-aged players in Iowa where he lives with his wife.